Humanities Teaching and Learning
Humanities Teaching and Learning Area
On the second and third floors of the Chu-Hwei Hall and the third floor of Ching-Chin Hall, there are six classrooms, each of which has a humanistic atmosphere. These rooms are designed for teaching and learning humanities.
Tea Ceremony Classroom
This classroom is designed for teaching tea ceremony etiquette. It is a heartwarming place for campus gatherings. The interior of the classroom is covered with a rustic wood flooring and furnished with fine wood furniture, both of which exude a vintage ambiance. The atmosphere is simple yet elegant and cozy due to the adjustable yellow lamps which add a touch of warmth and softness to the classroom.
Flower Arrangement Classroom
This classroom is designed for teaching and learning flower arrangement. The interior features a style of the Tang Dynasty. The shiny-black wood color scheme and simple geometric line design add serenity to the classroom, making it a suitable place for teaching and learning.
Chinese Culture Classroom
This classroom is designed for teaching courses related to Chinese literature, history, and philosophy. By retaining the aesthetic properties of Chinese literati, this space is suitable for Chinese culture education.
Culture Classroom
In hopes of motivating our students to get close to and to protect their hometowns, this classroom is designed for teaching courses related to local culture, geography, and sign language.
Painting and Calligraphy Classroom
While keeping the antique ambiance and furniture of this classroom in a Ming Dynasty style, it is also modernized with well-equipped electronic devices. Replicated paintings and calligraphies are also exhibited here, allowing our students to gain artistic appreciation of and to be immersed in the beauty of visual art.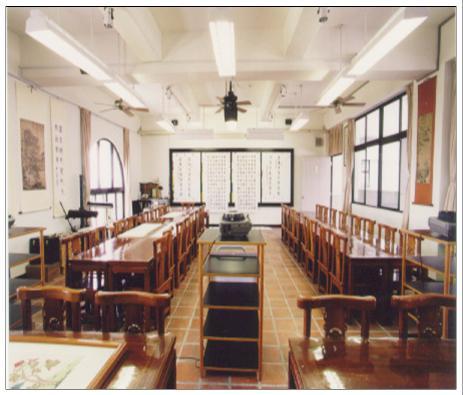 Meditation Classroom
This classroom offers students and teachers a space to calm their minds and temporarily escape the hustle of their everyday lives. The neatly arranged meditation platforms are constructed from rustic wood and tatami mats. Covered by bamboo blinds, the windows provide a beautiful view of the mountains and ocean under a vast sky. Sitting cross legged on the meditation platform allows people to find peace and gain a sense of harmony between their outer surroundings and the heart.
General Education and Liberal Arts Garden
In addition to managing and planning the general education curriculum and arts and cultural activities, the Center for General Education emphasizes incorporating our surrounding environment in teaching by providing a space for cultivating a humanistic spirit. By letting our students and teachers learn and engage in leisure activities in such an elegant environment, humanistic values are transmitted to and fostered gradually in their minds.
The Liberal Arts Garden is arranged to cultivate students' humanistic values from the surrounding environment. It features an arch bridge, pond, flagstone walkway, and numerous types of plants mentioned in literary texts, such as willows, water lilies, osmanthuses, cherry blossoms, dwarf junipers, podocarpuses, and nandinas. Poems composed by contemporary and ancient poets are also carved on the walls of the cloister to cultivate students' humanistic values.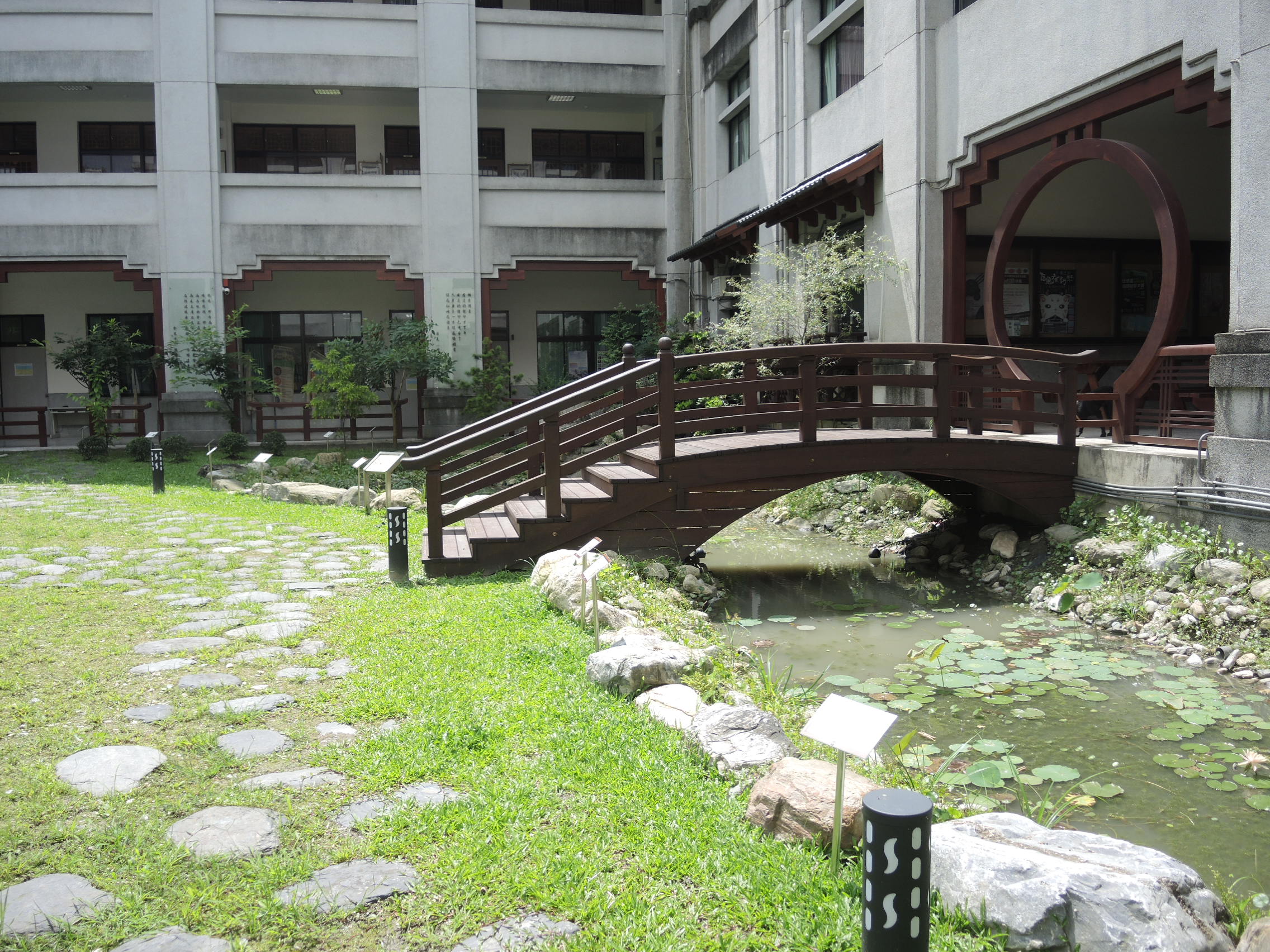 General Education and Liberal Arts Book Collection
The Liberal Arts Book Collection is placed on the third floor of the library. The books are stored in a cozy and elegant area where people can enjoy their readings comfortably. In addition to the Liberal Arts Book Collection, the area contains other books, audio, video collections ,and sofa arrangements. Moreover, the area exhibits various outstanding paintings, calligraphies, and sculptures created on or off campus.